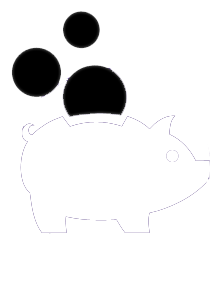 Accountants in Canterbury
Business owners are busy people, and they need a trusted advisor to help them make the most of their time and money. The world of business is constantly changing, which means that business owners need to be able to rely on their accountant for up-to-date advice on how to save money and grow their company. Precision Accountants in Canterbury are experts in helping businesses of all sizes and in every industry. We provide a tailored service that ensures you'll always deal with someone who understands your business inside and out. Whether you're a sole trader or an international limited company, we can help you to save money, free up time, and develop strategies that let you grow and succeed.
Unique accounting services in Canterbury, built around you
A lot of people view accounting and financial tasks as a burden, something that takes away from their time and gets in the way of their goals. It's hard to stay on top of your finances when you're busy running your business. You don't have time for bookkeeping, data entry, or chasing invoices. We take care of all of that for you so you can focus on what you're good at – running your business. With our unique Canterbury accounting services, we'll work closely with you to make sure everything is taken care of and give you real-time insights into how your business is doing.
We are the accountants you need in Canterbury
You're a business owner in Canterbury, and you need an accountant. It can be tough to find the right accountant for your business – one who is experienced with your industry, understands your needs, and can handle all your complex financial matters. We are the accountants you need in Canterbury. We work with businesses of every size and from every industry, and we have specialist experience and expertise for managed accounts. We understand what businesses need from their accountants, and we deliver services that suit and empower your business.
Talk to an expert accountant in Canterbury
We don't want to sell you anything, nor do we have any jargon. We just think that better financial management and services can help your business be more successful in the long term!
Accountants in Canterbury for every industry
You're a business owner and you need an accountant, but you don't know where to start. It can be hard to find the right accountant for your business. You need someone who understands your industry and can provide the professional support you need, no matter what stage your business is at. Precision Accountants in Canterbury are here to help. With more than twelve years of experience working with businesses from every industry, we have the expertise you need to ensure that your accounts are in safe hands.
Get to know a dedicated accountant who will understand your business and requirements.
See how your business plans may make a difference to your finances.
Keep on top of your company's performance and receive the insight you need to continue succeeding.
Start your business off in the right way by making sure that every box is ticked successfully.
Look ahead to the future and think strategically about where your business is heading.
Partner with a team who cares about your business and can support you on your journey.
Accountancy software experts in Canterbury
We're experts in Canterbury when it comes to accountancy software. We'll work with you to find the perfect platform for your needs and will handle the transition on your behalf so that you don't have to worry about a thing.
Sage
Quickbooks
Xero
Oracle
KashFlow Accounting
Expert bookkeeping – More than just accountants in Canterbury
You're busy running your business and don't have time to keep track of your finances. Not keeping track of your finances can lead to serious problems for your business. You could be missing out on important tax breaks, not paying enough or too much, and even worse – getting audited. Precision Accountants is the solution for you. Our team of experienced accountants will take care of all your bookkeeping needs so you can focus on what you're good at – running your business. We'll make sure you're always in compliance with the latest tax laws and regulations so you can rest easy knowing that your finances are in good hands.
Why choose us as your accountants in Canterbury?
We have over 12 years of experience in providing quality accounting services to businesses of all sizes. We're a team of highly qualified professionals who are passionate about helping our clients achieve their goals. We work closely with you to ensure that our services are exactly what you need, when you need them.
Here are just a few of the reasons that set us apart as Chartered Accountants in Canterbury:
We make it easy to get in touch
We're here to help! You can call, email or message us with any questions. We will always get back in touch as soon as possible and make sure you know exactly what is going on.
We help you plan ahead
We focus on your success. We'll advise you about the future, keep you updated, and will offer any other support that might be needed for your accounts.
We get to know you
We'll make sure we understand your business and can provide the solution that is best for you. You'll feel completely confident in our ability to deliver an excellent service!
We care about your business
We take pride in our ability to empower and assist you on your journey. We want nothing more than success for your business.
Get in touch to discover how our accounting and bookkeeping services could make a difference to your business. Email or call 020 3633 4344 to speak to our dedicated team.