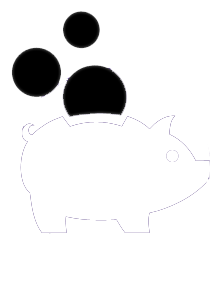 Accountants in Bromley
It can be difficult to find an accountant who is up to date with the latest trends in bookkeeping and finance. Precision Accountants are a team of Chartered Accountants and bookkeepers in Bromley who are committed to providing a high quality, personal service that is tailored to your specific needs. We understand that every business is different, so we take the time to get to know you and your company inside out. Whether you're a sole trader or an international limited company, we have the skills and knowledge to help you save money, free up time, and develop strategies that let you grow and succeed.
Unique accounting services in Bromley, built around you
Time-consuming accounting and financial tasks can take you away from what you do best – running your business. The last thing you want is to spend hours every week on bookkeeping and paperwork. Not only does this take time away from your core business activities, but it can also be stressful and confusing. We're a team of experienced accountants who understand the challenges that small businesses face. We offer a range of services that are tailored to your needs, so you can focus on what you do best. From bookkeeping and payroll to VAT returns and tax planning, we have everything covered. Plus, our real-time insights into your finances mean that you always have a clear picture of your current situation.
We are the accountants you need in Bromley
Businesses need qualified accountants who can provide expert advice and support, but often don't have the time or resources to find one. The accountancy market is saturated with firms offering a wide range of services, but it can be hard to know which one is right for your business. It's also difficult to know if you're getting good value for money. We are the Bromley accountants that businesses need. We offer a bespoke service that is tailored around your needs and we are transparent about our fees, so you always know what you're getting for your money. Our team of Chartered Accountants have years of experience in a variety of industries, so we can provide specialist advice and support no matter what stage your business is at.
Talk to an expert accountant in Bromley
Talk to an expert accountant in Bromley. We offer a no obligation, no sales talk, no jargon service – just suggestions from experts as to how better financial management and services can help your business.
Accountants in Bromley for every industry
Choosing the wrong accountant can be costly and time-consuming. They may not have the experience or expertise to help you grow your business, which could lead to missed opportunities and financial instability. Our talented accountants in Bromley are experts in every industry. We have over 12 years of experience working with businesses of all sizes and from all sectors. We understand the challenges that different businesses face and we have the skills and knowledge needed to help you overcome them. Contact us today for a free consultation – we're always happy to help.
Get to know a dedicated accountant who will understand your business and requirements.
See how your business plans may make a difference to your finances.
Keep on top of your company's performance and receive the insight you need to continue succeeding.
Start your business off in the right way by making sure that every box is ticked successfully.
Look ahead to the future and think strategically about where your business is heading.
Partner with a team who cares about your business and can support you on your journey.
Accountancy software experts in Bromley
We're experts in accountancy software, and we'll work with you to find the perfect platform for your business. We're familiar with a wide range of platforms, so we'll be able to handle your finances in the manner that you feel comfortable with.
Sage
Quickbooks
Xero
Oracle
KashFlow Accounting
Expert bookkeeping – More than just accountants in Bromley
You're a small business owner who is trying to wear too many hats. You're great at what you do, but accounting and bookkeeping just aren't your thing. Not keeping on top of your finances can be a huge risk for any business. You could easily fall behind on bills, taxes, and other important payments. Precision Accountants is more than just a group of expert accountants in Bromley. We are here to take the burden of financial record-keeping off your shoulders so that you can focus on what you're good at – running your business! With over 12 years of experience, we know how to keep your books in order so that you don't have to worry about them anymore.
Why choose us as your accountants in Bromley?
We understand that you have a lot of choice when it comes to accountants, which is why we work so hard to set ourselves apart. We're a firm of Chartered Accountants with over 12 years of experience. We have one-to-one partnerships with our clients, tailoring our services to their exact needs. And we're always up for a challenge – if you have a complex financial situation, we'll take it on and solve it for you.
Here are just a few of the reasons that set us apart as Chartered Accountants in Bromley:
We make it easy to get in touch
We're always ready and willing to help. Reach out when you need us with just one of the many communication options available – phone, email or via WhatsApp message!
We help you plan ahead
We're here for you. Whether it's about your annual accounts, performance updates or future plans, we will always look out after your needs with care and consideration.
We get to know you
We'll get to the root of what you need and demonstrate how we can help. We'll take the time to explore all your options so there are no surprises when our service starts up again!
We care about your business
We want to help you succeed. That's why our personal relationships with clients are so important. We work hard for your success because it means everything to us!
Get in touch to discover how our accounting and bookkeeping services could make a difference to your business. Email or call 020 3633 4344 to speak to our dedicated team.