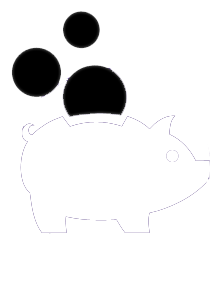 Accountants in Ashford
Business owners are busy people and don't always have the time to keep up with their accounting and bookkeeping. Not keeping on top of your finances can be a huge mistake – it can lead to missed opportunities, penalties, and even bankruptcy. Precision Accountants is here to help businesses in Ashford. We provide expert bookkeeping and accounting services that will take the burden off you so you can focus on what you're good at – running your business. We'll keep track of your expenses, manage your invoices, and make sure everything is filed correctly so you can rest easy knowing that your finances are in good hands.
Unique accounting services in Ashford, built around you
Time is money, and when you're busy running your business the last thing you want to do is spend time on bookkeeping and accounting tasks. The average small business owner spends hours on bookkeeping and accounting tasks. That's time that could be better spent growing your business. We take the hassle out of accounting for customers in Ashford. You can focus on what you do best, while we take care of everything else- from invoicing to tracking expenses. Plus, our real-time insights into your finances will help you make better decisions about your business.
We are the accountants you need in Ashford
You're a business owner in Ashford, and you need an accountant, but you don't know where to start. It can be tough finding the right accountant for your business. They need to have the right skills and experience and they need to be able to work with you on your terms. We are the accountants you need in Ashford. We work with businesses of every size and from every industry, and we have specialist experience and expertise in managed accounts. We're tailor-made for limited companies that want a valuable one-to-one relationship with their accountant.
Talk to an expert accountant in Ashford
We offer you no obligation and a free consultation with our financial experts. We are not trying to sell anything, just providing suggestions on how better management can help your business grow!
Accountants in Ashford for every industry
It can be tough finding the right accountant for your business. Do you go with a big firm that might not have the specific expertise you need? Or do you go with a smaller firm that might not have the resources to offer comprehensive support? Precision Accountants in Ashford is the perfect solution for businesses of all sizes. We have a team of experienced accountants with expertise in every industry, so no matter what your needs are, we can help. We also offer comprehensive support services, so you can rest assured that you're in safe hands every step of the way.
Get to know a dedicated accountant who will understand your business and requirements.
See how your business plans may make a difference to your finances.
Keep on top of your company's performance and receive the insight you need to continue succeeding.
Start your business off in the right way by making sure that every box is ticked successfully.
Look ahead to the future and think strategically about where your business is heading.
Partner with a team who cares about your business and can support you on your journey.
Embracing technology
We work around your needs, delivering our services through the software that suits your business best. Our team are familiar with a wide range of platforms, guaranteeing that we'll be able to handle your finances in the manner that you feel comfortable with.
Sage
Quickbooks
Xero
Oracle
KashFlow Accounting
Expert bookkeeping – More than just accountants in Ashford
It can be tough to find the right bookkeepers, and even tougher to trust them with your finances. Bookkeeping is critical for any business, but it's also a complex and time-consuming process. You need experts who will keep you on track financially and help you grow your business. Precision Accountants provides expert bookkeeping services in Ashford. We have more than 12 years of experience helping businesses like yours stay on top of their finances. We're professional bookkeepers who understand the importance of meeting deadlines and delivering a personal service that you can trust.
Why choose us as your accountants in Ashford?
We have over 12 years of experience helping businesses just like yours save money and time with our tailored accountancy services. We'll work closely with you to make sure your finances are always strong, giving you the peace of mind, you need to focus on running your business effectively.
Here are just a few of the reasons that set us apart as Chartered Accountants in Ashford:
We make it easy to get in touch
Our team is ready to help you with any question that might come up. Whether it be by phone, email, or message we will always return the answer as soon as possible so there isn't a delay!
We help you plan ahead
We are always looking out for your continued success. Whether it be updating you on progress, discussing new strategies, or giving advice about what lies ahead in years to come. We will provide all necessary guidance.
We get to know you
We won't just take your word for it; we'll determine the best way to meet all of your needs and standards. You can be confident that with us on this journey together there are no surprises along the way – only success.
We care about your business
We're invested in your success. The personal relationships we foster with our clients ensure that, no matter their needs, they can count on us to be there for them and do everything we possibly can to help.
Get in touch to discover how our accounting and bookkeeping services could make a difference to your business. Email or call 020 3633 4344 to speak to our dedicated team.